Every 3 to 4 hours all of the air in a typical home will make a complete circuit through the HVAC duct system. Going along for the ride is all the dust, moisture, cooking odors, grease, pet hair and assorted microscopic life forms that share the house with you. Normally your system's filters will capture most of this floating debris but no matter how good the filters are, over time grit and grime accumulate inside the ducts themselves, slowing things down and posing potential health problems.
The Problem - Dirty Ductwork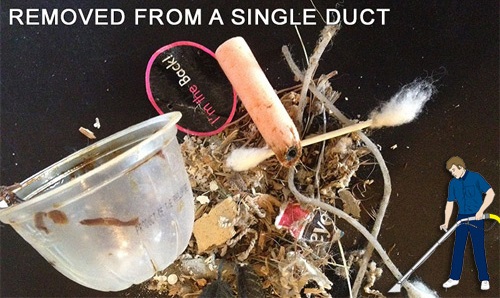 While there is plenty of evidence that supports the idea that a dirty HVAC system is an inefficient one, that's not the only reason you may want to call us about having your duct system cleaned. As homes inch ever closer to becoming hermetically sealed, high tech habitats the quality of the air that is being circulated within them becomes of paramount importance. If something is compromising that quality it should be addressed before it becomes a problem, not afterward. At Steve's we recommend cleaning your duct system if any of the following conditions apply:
A Recent Renovation - If you have recently remodeled your home and the work entailed asbestos removal or any form of demolition you should have your ducts cleaned as the last act of the renovation. Remodeling a home and leaving sheetrock dust and other debris sitting in the ducts to recycle endlessly is a bad idea, especially if there's a chance that other debris contains hazardous material of some kind.
Allergic or Asthmatic Outbreak - If for no apparent reason you or a member of your family begins suffering from allergic or asthmatic episodes while inside the house there is a good chance mold may have built up inside the ductworks signaling that it's time for a thorough cleaning.
A Noticeable Drop in Performance of your Heating or Air Conditioning System - If you don't get the usual performance out of the usual settings something is slowing your system down and you should consider having your ducts cleaned. An efficient system is also a cost-effective system so by cleaning your ducts you may be saving money.
It's also a good idea to get the ducts cleaned if you've just bought the house from a previous owner as you just never know. However, if you're still not sure whether your situation warrants a full-on cleaning of the duct system, remove a few grilles and check around inside with a flashlight for any of these symptoms.
Thick clogs of dust along the inside walls of the duct extending away from the grille area
Cobwebs
Mold visible anywhere inside the duct
Rodent droppings or hair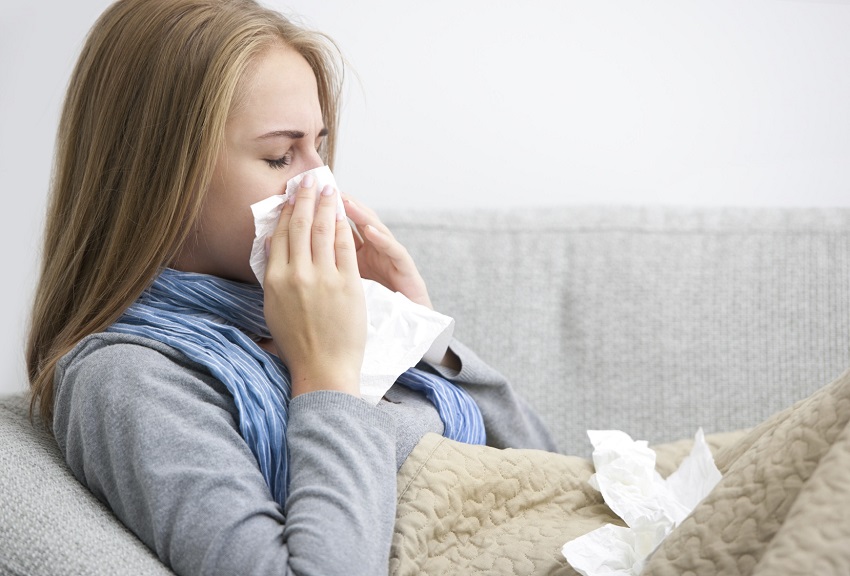 In addition, if you notice a gritty substance blowing out of the grilles when the system is on, no flashlight exam will be necessary because this is a sure sign your ducts need cleaning.
The Solution - Steve's Air Duct Cleaning
Here are 5 good reasons to choose Steve's Air Duct Cleaning to clean your dirty HVAC ducts.
We're Local - Steve's has been a part of the Boulder community for nearly 40 years. We are your neighbors, your friends, the folks that keep your home or office looking good and running smooth. We have a long term investment in the community and a hard-earned reputation to uphold. When you call us to clean your HVAC duct system those 4 decades of reputation come along to the jobsite. You'll never have to worry about the quality of the work, the fairness of the price or the professionalism of our technicians.
We're Dependable - There will never be any unwanted surprises or no-show technicians when you enlist us to handle your duct cleaning. Our team will show up when they're scheduled, do the job as agreed and leave your home or office better than when they arrived.
We Do the Job Right - Our technicians are some of the best trained in the industry. All are IICRC certified and had to complete a rigorous training period before being allowed to handle any project for us. In addition, all the work we do is fully bonded and insured for your protection.
We're Affordable - We pride ourselves on providing the highest quality service at the lowest possible price for our customers. You can be sure that the agreed upon price is the price you will pay. No one wants to discover after the fact that the deal they thought they were getting is no deal at all and that will never happen when you work with us.
We Stand By Our Work - The fear that the person or company you've contracted to perform a certain task will suddenly disappear once the work is done exists for a good reason. Independent contractors or solo specialists have a regrettable tendency to get in, make a few bucks and move on. Our standing as trusted members of the Boulder community means that we will be here tomorrow, next year and beyond to answer your questions, address your concerns and, in the unlikely event of a problem, see things through to your satisfaction.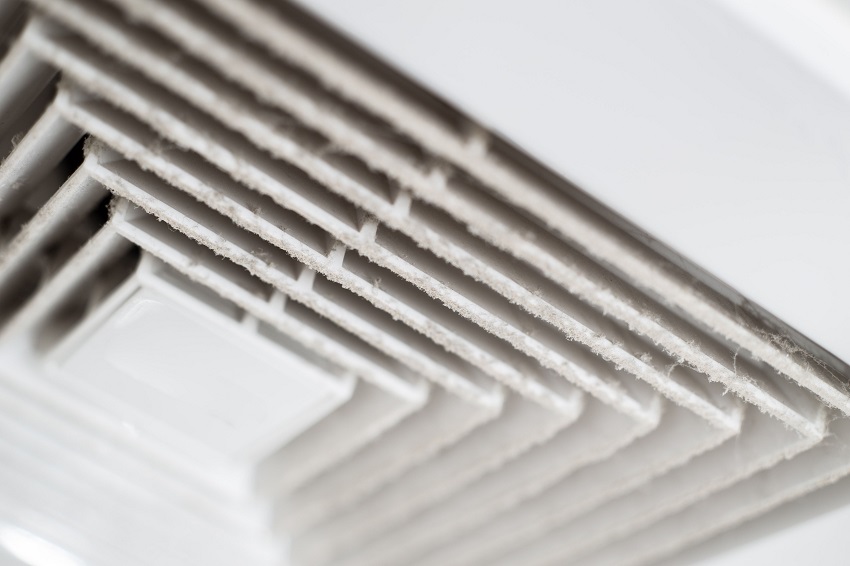 When you chose us to clean out your ducts you are putting the Boulder area's most experienced and trusted home maintenance experts to work for you. With over 38 years serving the Boulder community we know the challenges facing area homeowners as well as the various environmental issues they face. Our highly trained support staff will provide you with a reliable quote and make sure you understand the entire process before work gets underway.
The Process
Our duct cleaning process is the most comprehensive available and replaces the standard rotating coil brush some companies use - which could damage your ducts - with our patented Teflon ball system. We use a patented, state of the art, 3-component system that gets into every nook and cranny of your ducts to ensure no potential problem is overlooked. We use the industry leading RamAir Duct Cleaning System. (You can skip to 1:30 in the video to see what makes our system of air duct cleaning better)
The system is composed of:
High Pressure Air to Blast Away the Bulk of the Dirt and Debris - Extensive field testing has shown that removing debris using compressed air is the most effective and efficient method to clean ducts. Risk of damage to the ducts is also minimized using this method as no foreign objects are introduced into your HVAC system.
A Patented Teflon Ball to Clean Remaining Dirt and Grime - Once the high pressure air has blasted away the bulk of the debris our specially designed Teflon ball is carefully guided through the system to finish the job by cleaning any areas the pressurized air may have missed.
Safe, Effective Debris Removal - Truck mounted high powered vacuums then suck any loose debris from the ducts and whisk it from the home into refuse containers in the truck for later disposal. As a result, cleanup time is minimal, allowing your home to return to normal as quickly as possible.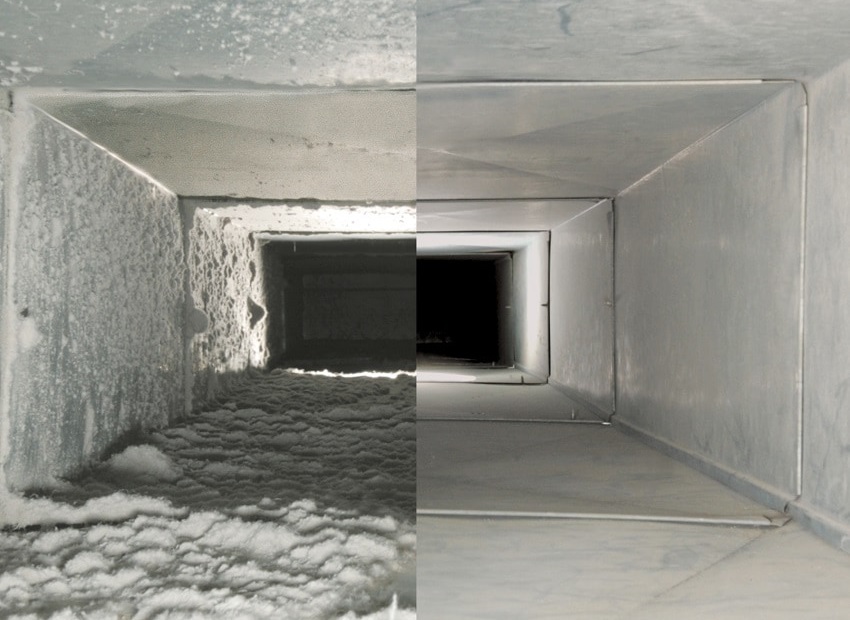 In addition our technicians will ensure minimum disruption to your home during the process by:
Protecting your carpets and furnishings.
Making sure the cleaning proceeds in a controlled manner.
Adhering to all industry standards and practices.
Replacing all grilles, vent covers and other peripherals to their original positions once the work is complete.
The collection of air ducts coursing through your home represent the structure's lungs and circulatory system. As with your own body proper maintenance is essential in order to ensure things continue to perform to their maximum potential. By calling Steve's Carpet Care today and arranging to have your air ducts thoroughly cleaned you are helping to ensure the long term value of your home as well as the health of everyone who lives there or passes through.
Additional Services
Steve's Air Duct Cleaning is not only the premier air duct maintenance company in the Boulder area but we also offer an array of related cleaning and maintenance services that help keep your home looking like new while continuing to be a safe, comfortable and nurturing environment for family and friends. These other services include:
Carpet cleaning - The service we built our reputation on. Still the top carpet cleaning company in Boulder.
Tile and grout cleaning and maintenance.
Cleaning of your oriental rugs and throws.
Comprehensive upholstery cleaning and repair.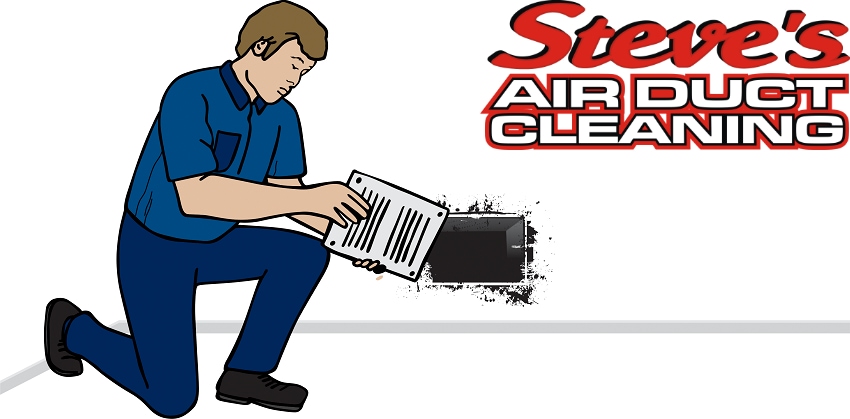 For almost 40 years we at Steve's Air Duct Cleaning have been serving the needs of the Boulder community, supplying the highest quality home and office maintenance services at affordable prices. Today, even with thousands of customers to our credit, our goal remains the same as it was when we first started all those years ago: your complete satisfaction.